Art for everyone was expounded on and dissected at the Artcessible event, a discussion surrounding art in all its forms in society.
On Thursday 5 September, prominent guests were invited to discuss and give their views on a topic that affects us all. Public art, architecture, museums, street art, etc. The democratization of art is expressed on a daily basis.
Thierry-Maxime Loriot: making fashion accessible
The event's tone was set by a conference with Thierry-Maxime Loriot, hosted by the editor-in-chief of Dress to Kill magazine, Stéphane Le Duc.
A former model, Thierry-Maxime Loriot crossed over into the world of museums, drawing on his experience in the fashion field.
Until recently, he was the curator of the "Thierry Mugler: Couturissime" exhibition at the Montreal Museum of Fine Arts, of which LaSalle College was a partner.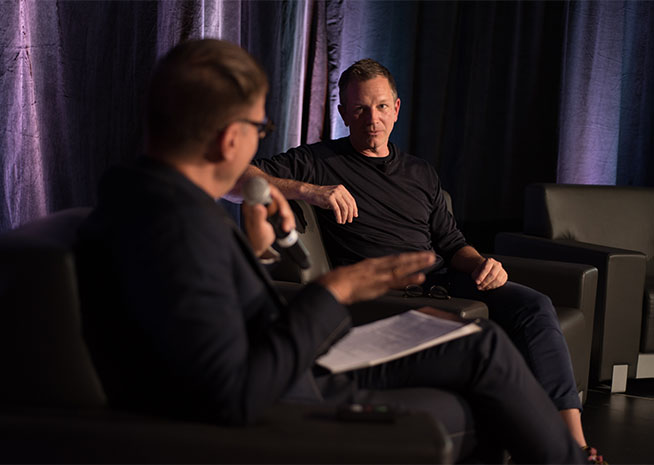 He also curated "La planète mode de Jean-Paul Gaultier: de la rue aux étoiles" (The fashion world of Jean-Paul Gaultier: from sidewalk to catwalk), the first exhibition created with a living fashion designer in Montreal. This particularity set the tone for exhibitions by this Quebec native: created alongside the designers, they are a complete immersion in their artistic vision.
In his many projects, he mixes several worlds: music with Rufus Wainwright, Madonna and Michel Pilon, photography with Peter Lindbergh, fashion with Viktor & Rolf, special effects with Rodeo FX, the studio behind Stranger Things and Game of Thrones, and that's not all... These collaborations create rich experiences that are accessible to all.
"How do we attract people to museums in the era of Netflix, Tinder and online shopping? You have to set the stage to take them on a journey. It's easy to create a beautiful exhibition, with a beautiful dress against a beautiful backdrop; but for that, you can go to a department store!"
Discussion about the democratization of art
After the conference with Thierry-Maxime Loriot, prominent guests took their places on a panel about the democratization of art.
Marie-Claude Langevin works at the Montreal Bureau d'art public, which is dedicated to acquisition, conservation and promotion. "Public art is a whole undertaking. You don't just place a work of art to place a work of art. You incorporate it in new buildings, new parks... It's a whole undertaking for citizens."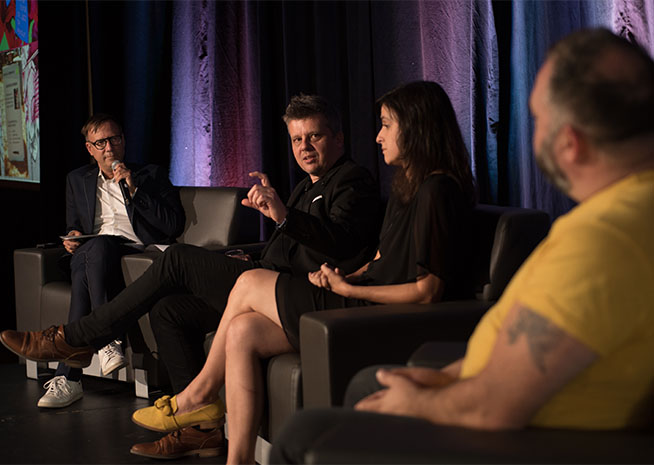 Éric Pelleter is the founder and co-director of LemayLAB, who designed the Bibliothèque et Archives nationales du Québec (BAnQ), Montreal-Trudeau Airport and the Grand Théâtre de Québec. "What I'm looking for, is to spark emotion in people".
The works of the artist and illustrator Éric Santerre have been exhibited at the Vatican and in Paris, Florence, Miami, Cannes, Ireland, Belgium and all over Quebec. His work "Cartier" decorates a limited edition gin bottle by Romeo's, which has won international prizes. And did you know that you can see two of his paintings in the "Loft" collaborative classroom on the 6th floor of LaSalle College?
Several topics were addressed in the discussion led by Stéphane Le Duc: public competitions, how to handle rejection, partnerships with brands for visibility, the incorporation of art in architecture and public spaces, the emotions that it creates in passersby... As Éric Santerre would say: "Public art is an experience — it livens the world up. You pass by it and smile."
Art takes several forms in our society and affects us every day. Thank you to our conference speaker and our panelist for coming to discuss its democratization!