Organized largely by students of the Innovators in Technology (INT) student association, Tech Week is an event where students meet with industry professionals to discuss a variety of topics related to information technology.
From November 13 to 19, students, professors, industry professionals and employees came together in the Jean-Paul-Morin Room to participate in Tech Week conferences, activities, workshops and mini-courses.
Professors and industry members (CISCO, David's Tea, Stradigi AI, EXO Montréal) conducted workshops and conferences on a variety of topics, including:
Networks and Security: Case Study of David's Tea
Machine Learning for Combating Climate Change
Test Driven Development Technique
Artificial Intelligence
Amazon Web Services (AWS, a cloud computing platform)
Git and GitHub
Developing a 2D video game with C# and Unity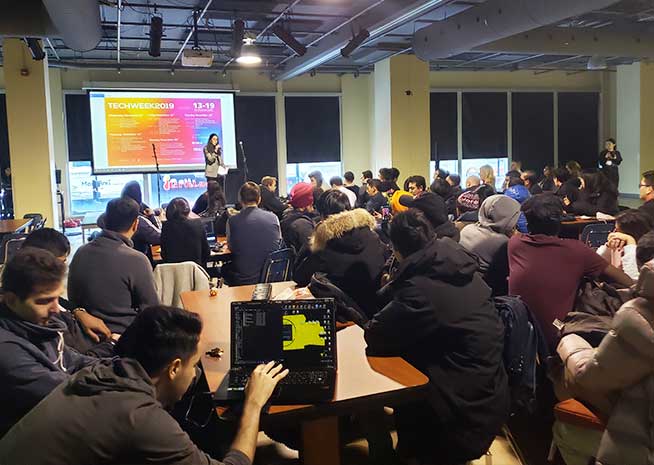 This year's new Tech Talks (modeled on TED Talks) were short 15-minute presentations aimed at piquing people's curiosity on a new topic:
New Information Revolution: Quantum Supremacy
Introduction to Firebase (application development platform)
Why NOT to Buy an Electric Car
In addition to this variety of innovative and informative workshops, this year Tech Week included a gaming tournament, a showroom of video games produced by our Video Game Programming students and an IT help desk run by Computer Science Technology - Network and Security Management students.
Several prizes provided by Google, Amazon, Microsoft, Uber, EA games, Ubisoft, IBM and other major brands were raffled off.
"The event was a great success and it generated a real sense of pride and belonging. Students were able to learn, meet industry professionals, connect with their peers, interact with their professors on a more personal level, solve puzzles and discuss topics," said Nariman Mansoor, the professor in charge of the Innovators in Technology (INT) student association.
Congratulations, and see you next year!