After his creations for Tessa Virtue and Scott Moir at the 2018 PyeongChang Olympics received international notice, Mathieu Caron delivered again this year, making no fewer than 22 outfits for figure skaters at the Beijing Olympics.
Being a graduate from LaSalle College's Fashion Design program, we decided to ask him to speak to our students about his career and the creations he has made for Olympians. The discussion was hosted by none other than Stéphane Le Duc, a well-known fashion expert in Québec.
His beginnings...
Two important women in his life, his grandmothers, had a strong sense of style and elegance, as well as a taste for fashion. They had a sewing room at home, and Mathieu enjoyed watching them as they worked at their sewing machines. Even back then, the Olympic costume designer was fascinated by the aesthetics and visuals of fashion.
Later, Mathieu also became interested in dance, specifically, ballroom dancing. He eventually began to combine his two passions, making the outfits for his dance competitions.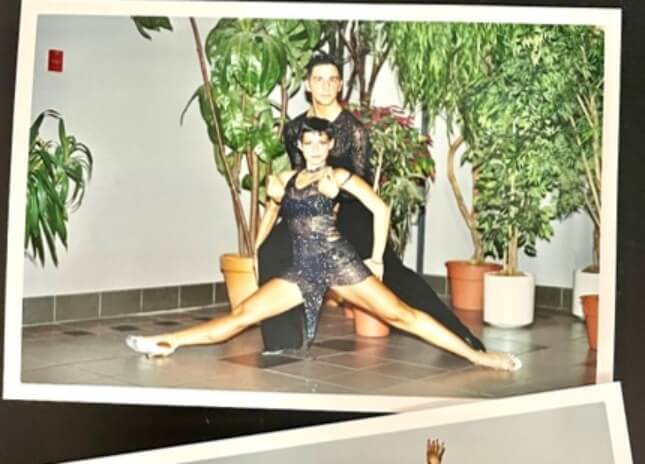 The first dress he ever made was inspired by a Thierry Mugler dress he had seen during his time at LaSalle College.
His company: Feeling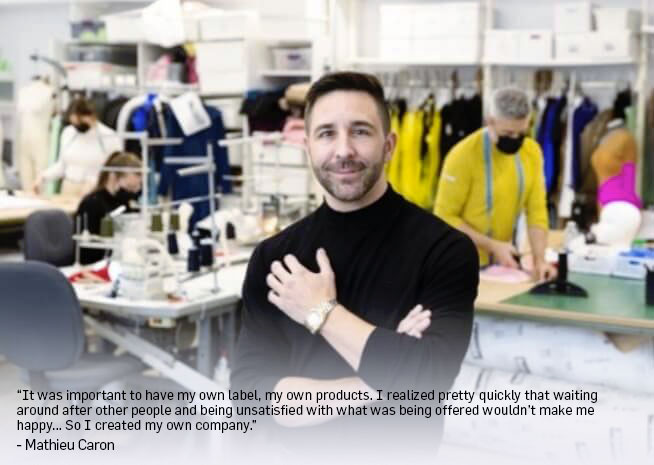 His background as a dancer contributed significantly. He understands a dancer's needs and how the outfit has to adapt to the movements. What's more, he has experience as a choreographer too, so when coaches talk to him about their vision, he understands their needs.
Feeling's workshop is located in Longueuil. After the 2018 Olympics, the team grew from 7 to 18 employees! Today, they are still hiring so they can grow further.
His Olympic creations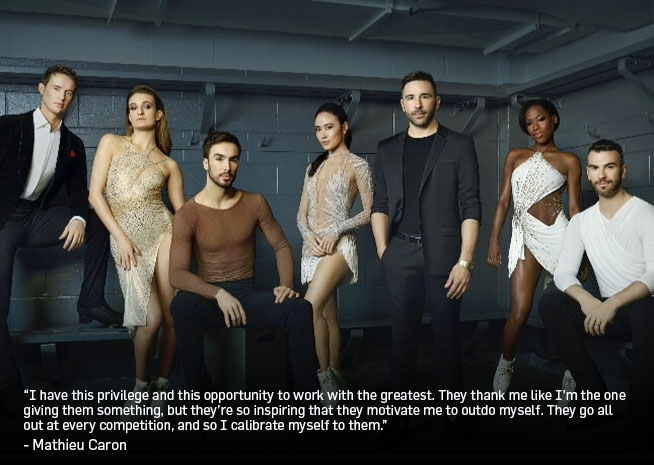 For figure skaters, the costumes are very important and are a part of the performance. They need to showcase the athletes and support their performance, without overshadowing them!
In addition to the outfits, Feeling also makes the jewelry and accessories. The accessories may be pretty big and flashy, but you also have to make sure there's no risk of the dancer getting caught in them. Mathieu and his team always make sure to make accessories that aren't too heavy and that are sufficiently flexible.
Tessa Virtue and Scott Moir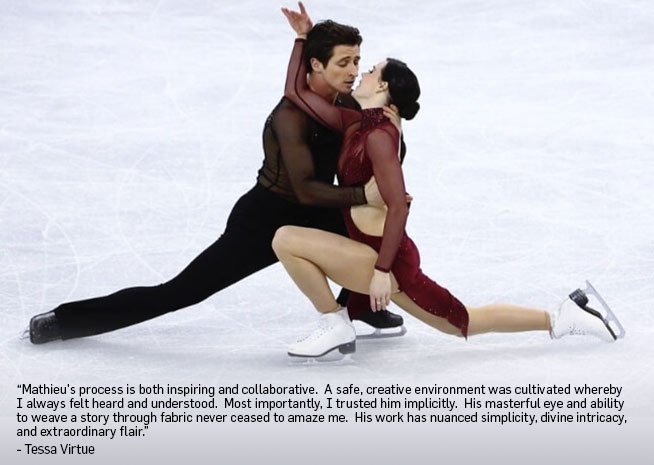 "At first, we wanted really stick to the Moulin Rouge movie, but after the first competition we realized that it would take more than that! The training dress had been more successful than the performance dress, so we built on that one to create the final version for the Olympics. In total, there were four versions of Tessa's outfit."
Alysa Liu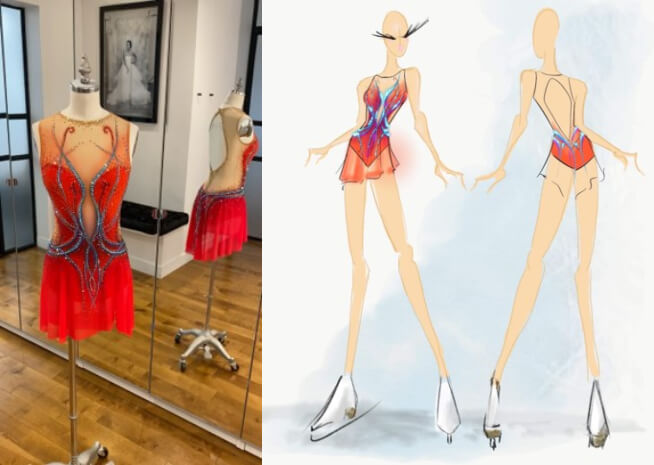 "I was initially inspired to create a more fire-and-brimstone look. I wanted to showcase the spiritedness of the young skater, only 16 years old, as well as the music's somewhat bohemian feel. This is the second version of Alysa Liu's costume, which represents some 60 hours of work."
Madison Chock and Evan Bates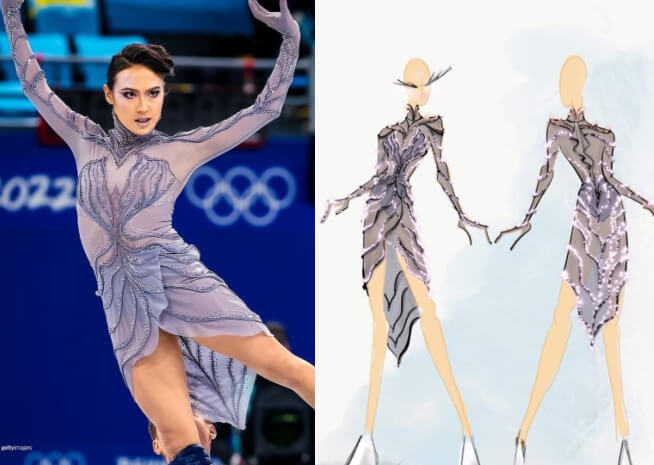 "Madison will often come in with sketches and ideas, which is completely different from Alysa, for example. So it was interesting to be able to work on her ideas and develop them.
For her blue outfit, I wanted to avoid the trap of creating an alien costume (that being the theme of the dance). It was challenging to avoid caricature!
Her costume has a lot of pattern and detail. There is an elastic band we had to cover, and to do that, we actually drew a line on Madison to figure out where to place it. For this costume, we're talking more than 120 hours just on tailoring, not including actually making it."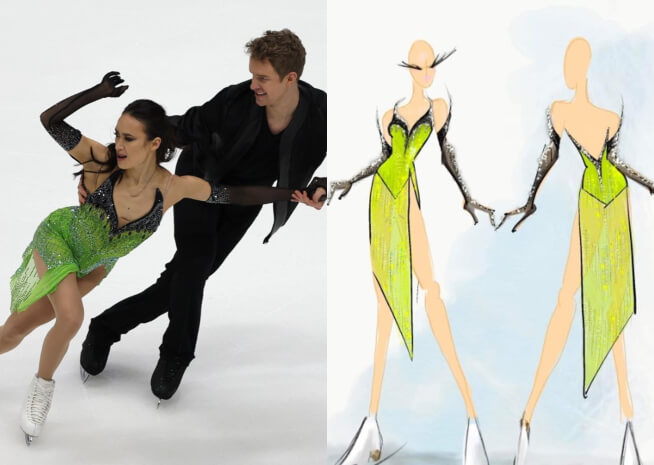 "As for the second outfit, we went green because she was dancing to a Billie Eilish song. We often rely on the music, which becomes an important source of inspiration. The idea is to use the sound as a reference, but like I said, without slipping into cliché."
Marjorie Lajoie and Zachary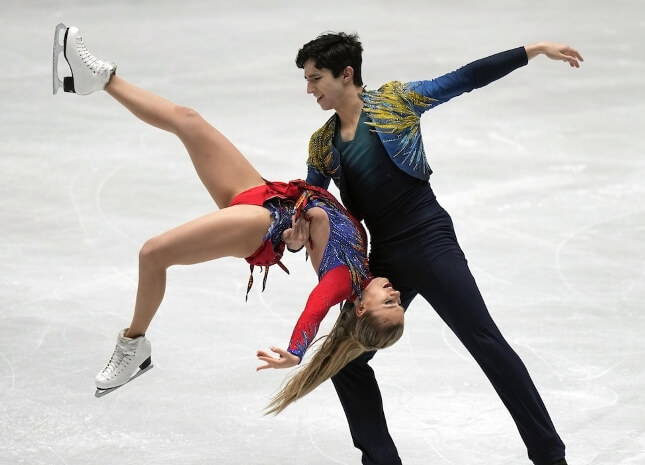 "The theme was Rio so the order was to recreate two parrots. But in figure skating, no part of the costume can fall on the ice or the athletes lose points. So we had feathers printed on fabric, in 3D, which was more rigid. We also did airbrush and brush painting. So a lot of the work that went into this costume was artisanal and done by hand."
Olivia Smart and Adrian Diaz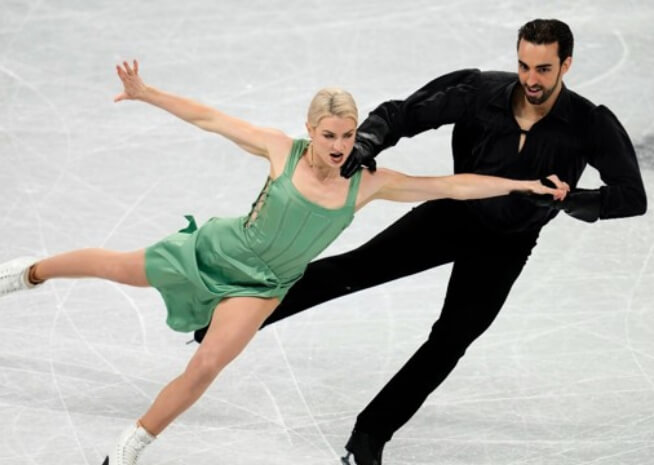 "Again, we wanted to avoid cliché. The music and choreography were based on the Zoro movie. So we created a green bustier to represent the traditional flamenco.
A specific moment in the movie inspired the dress: an actress wearing a dress of this color. But we couldn't find the exact color so we had our fabric printed with our own color design.
The corset is just an illusion: it isn't a real corset, it's a layering of a semi-stretch satin to look like a corset, while letting the athlete stay comfortable."
Keegan Messing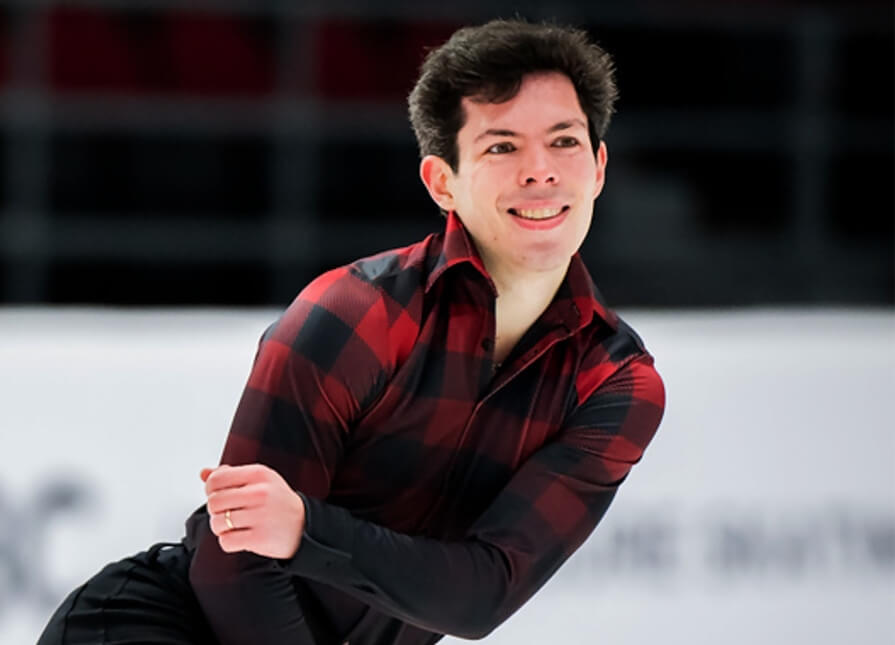 "Dressing Keegan in an ice skater's outfit was impossible... So we compromised to make him look good while respecting his personality. He wanted to pay tribute to Canadians, and we wanted to play with the proportions and lengthen his silhouette.
His costume looks so simple, but so much work and analysis went into it! Luckily, it was a big hit on social media!"
Shoma Uno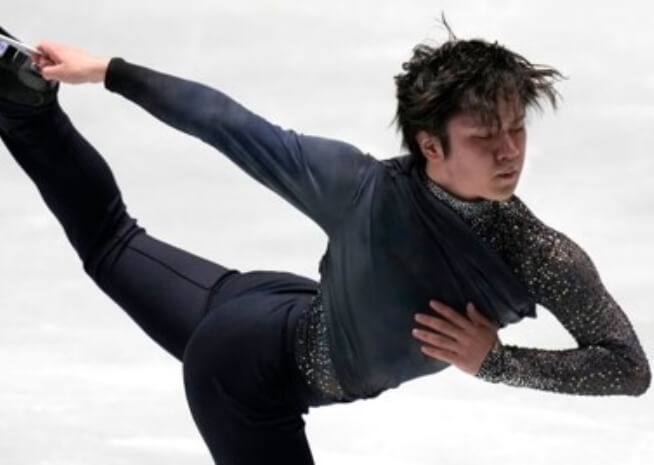 "His costume had wheat and baroque for inspiration, with a touch of gold. We added a movement effect to the leg and body to define his silhouette. This is something we do quite often: we take the decorations down the pants to amplify the movement. Even when the skater is standing still, there's movement in the costume."
Gabriella Papadakis and Guillaume Cizeron
"This is the couple that came out victorious at the Beijing Olympics! Being French, they have their choice of designers... But they chose a Quebecer! Guillaume was very involved in the creation of the costumes. He has a keen artistic taste and knows what he wants. So we worked on the guidelines together ahead of time..."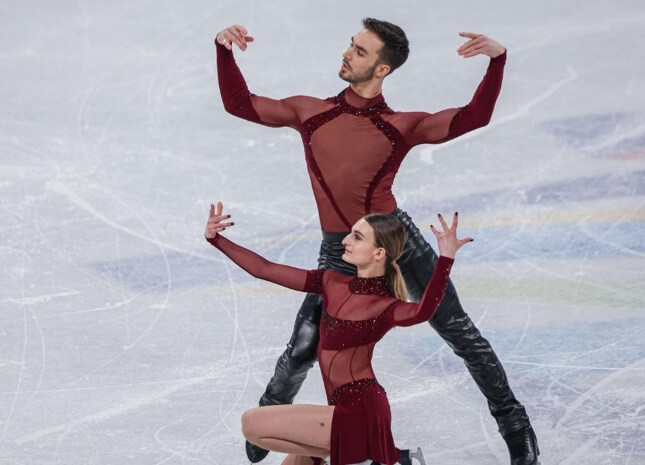 "For their first costume, because there was a lot of dancing in their act, meaning a lot of arm movements, we wanted to highlight that... So we used two different materials—one for the forearm and one for the biceps."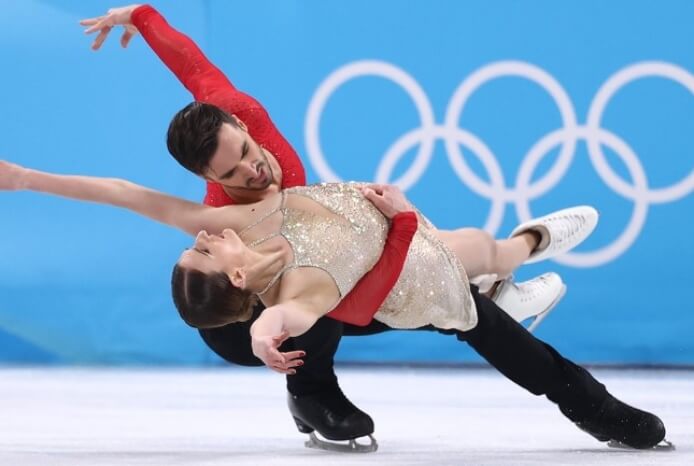 "A duality and complementarity must exist between the dancers. Gabriella is refinement and grace when she skates. So, for this second outfit, we used a lot of stone. The mixing of cream and gold was made for her!
For Guillaume, we went with red to create a nice contrast. We also had another version of his costume, which he wore at the World Championships. But at the Olympics, he wore the red outfit because we knew the boards around the rink were blue so it would stand out better."
His best advice for the young designers of tomorrow
"This job is a true calling! You really have to tuck away your diva side and your vision of things. You have to listen and be dedicated to customer service. You may be the one signing off on the customer's request, but you aren't the central focus of the creation.
You also have to be perseverant, passionate, and interested in everything going on and what's being done in the field. Finally, you have to trust yourself and believe in yourself."