Montreal Fashion Week is always a busy week full of events, and the College participates every year by holding a conference for its students and the general public.
This year we had the pleasure of hosting a conversation with our former student and current fashion lecturer Markantoine Lynch-Boisvert. Led by Jean-Pascal Simard, a teacher at the College, the event was an opportunity to learn more about Markantoine's experience on the show Making the Cut, available on Prime Video.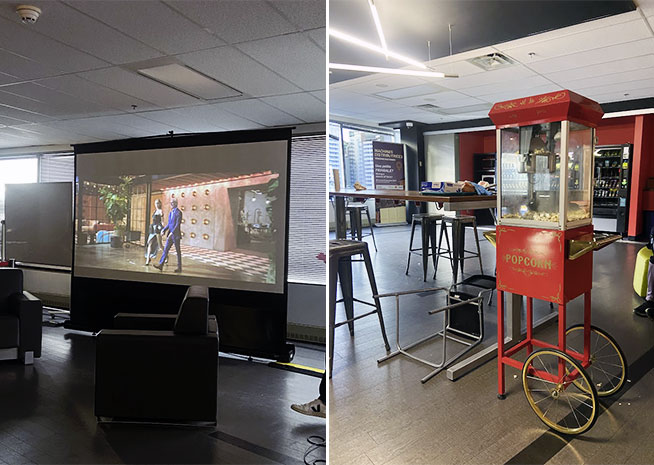 About the talented designer behind the MRKNTN brand
Armed with an impressive background that includes interning in Paris as Aline Ochoa's assistant, contributing to brand development for the LVMH Group, and being involved in MMODE, Markantoine launched his streetwear brand MRKNTN in 2017 and now teaches Fashion Marketing and Fashion Design at LaSalle College.
His participation on the show provided great exposure for Montreal fashion and helped him gain an international following.
His appearance on Making the Cut
Markantoine joined 9 other talented designers on season 3 of Making the Cut, hosted by none other than Tim Gunn and Heidi Klum! The show was filmed in December 2021, in Los Angeles, and streams on Prime Video.
As the only designer to do streetwear, Markantoine set himself apart with his unique and flamboyant style! Throughout the journey, Markantoine stayed true to himself and his style. His authenticity and professionalism charmed the audience.
Making the Cut: Season 3, Episode 4
Episode 4 of the show was a particularly memorable one for Markantoine, and this is the episode he focused on during the discussion.
Markantoine explained that this episode had a very special concept: the contestants had to work together on an undefined theme, which they had to come up with themselves. He told us that, since this challenge had to be completed in 7 hours, they chose the Italian Mafia Funeral theme so they could create outfits in black: a color that is much more forgiving of flaws.
Each contestant designed a look representing a fictional character attending the funeral. Markantoine chose The Rockstar Son look. So he designed a glamorous outfit, with lots and lots of sequins, that perfectly represented the Markantoine style.
At the end of the episode, in an unexpected twist, the judges loved all the creations so much that no contestant was eliminated! Markantoine proudly told us that Klum voted for him and that she loved the look. She especially liked that it was unisex, almost as much as she seemed to enjoy the sequins.
Teamwork and relationships with the other contestants
While it is common in the fashion industry to see designers working alone, Markantoine enjoys working as a team. So when it was announced that the challenge for episode 4 would be collaborative, Markantoine was very happy:
"I was really excited to co-create with people. I'm someone who always collaborates a lot with the other fashion artisans around me. So combining aesthetics and bringing together makers of different types of clothing has always been something that I've been really passionate about."
His flair for teamwork was not confined to this challenge. He says he often helped other participants by fixing their sewing machines or changing the needle on the machines. When he mentioned it on the phone with his family and his partner, they told him to stop helping others if he wanted to win the competition... But he didn't agree.
"It's in me, somewhere, I think... I'd rather help my fellow contestants so that we're on equal ground. Yes it wasted my time, but I think everyone is entitled to give their all."
It might surprise those who watched the show to learn that, as Markantoine notes, 99% of what actually happened was left on the cutting room floor. Although it may seem that there were strained relationships between some of the contestants, he says that in reality they all got along extremely well. In fact, when asked what he remembers most about his experience, Markantoine was quick to say it was the relationships he developed with the other contestants.
"Spending several weeks with the same people who are doing the same thing as you, at the same time, it makes you interact and create friendships really quickly. We had the same frustrations and passions; we rejoiced, we cried, we screamed, we tore fabric... It made it feel like I'd known them for 10 years."
Rediscovering his creativity
Not only did this experience lead to cherished relationships, it also helped Markantoine achieve something very important: reconnecting with his creative side.
"Not having a phone or computer anymore, being around nine other people in the same industry as me and who all wanted to be on the show, being in a situation where I could be creative and create without being limited by business considerations, it gave me confidence in myself and in my work."
His hopes for the future of Canadian designers and gender-neutral fashion
Markantoine joked that he made too few dresses even though he realized they won most of the time.
"It was easy to decide to make dresses for evening wear. I think production and Amazon made a statement for the future of the show when they chose Yannick as the winner. And I think it's going to lead to there being more room for gender neutral or genderless fashion."
Markantoine hopes to see more gender neutrality in fashion, but still recognizes the impressive visual appeal of the dresses. For his first challenge, he made a dress that certainly impressed: the winter coat dress. This one was a way for him to represent his Canadian roots:
"When I was at LaSalle College, I had a teacher, José Pepin, who told me that in Canada, we're known for making winter coats. It really made an impression on me. So I started my journey at the show thinking 'perfect, I'll start with a winter coat. I'm going to make the biggest winter coat I can, and after that, the pressure will be off me because I'll have given people what they expect to see from me.'"
Markantoine is the first Canadian on the show, and we all hope he will not be the last:
"I'm just proud to be the first Canadian on the show, and hopefully I can encourage people here to do the same thing I did."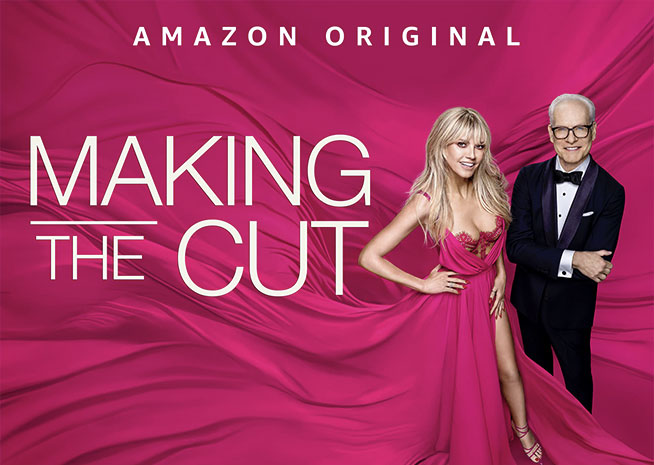 Photo: Amazon.com
You can follow Markantoine's journey on the show by watching Making the Cut Season 3 on Prime Video.
You can also see his work on his website or follow him on Instagram.