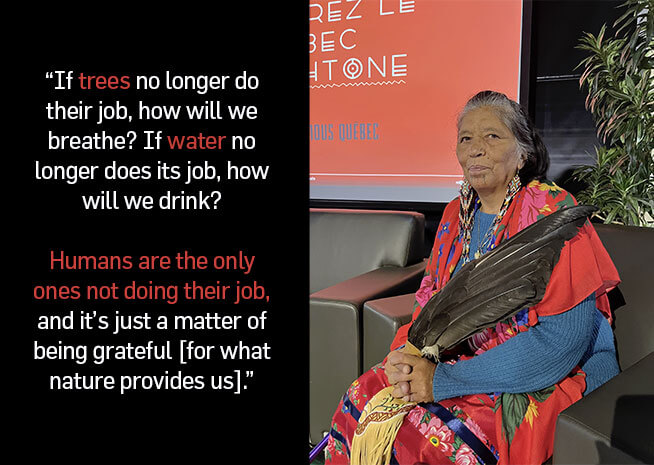 Last month, we offered our Tourism Techniques students a panel discussion on indigenous tourism, a topic vitally important to the future of tourism everywhere, but one that may sometimes be taboo, overlooked, or even neglected by travel designers.
To guarantee a sincere and passionate discussion and get the facts straight, we invited two experts in the field to come meet our students:
Kimberly Cross, Tourism Development Agent, Kahnawake Tourism
Colombe Bourque, Director of Tourism Development for the Wendake Tourism Industry
Under the brilliant leadership of tourism student Arora Harshman Singh, three other students, Brittany Felde, Kayla Meyer, and Shalini Shalini, joined the discussion and posed their questions to our guests.
This event was made possible by our amazing students and two of our tourism teachers: Josie Salvo and Carmen Ciotola. Thank you for your enthusiasm, efficacy, and dedication to your students!
You will find an overview of the discussion below… Enjoy!
Indigenous Tourism Awareness for Potential Tourists
1. People are traveling more within their own country due to the pandemic. Is the Quebec market showing greater potential?
Colombe: Your first customer or ambassador is almost always your neighbor. So yes, we've seen the realization of this potential over the last couple of years.
When people come to us, they learn a great deal, and this is what they're looking for—while they do want to eat and sleep well too, they mostly want to learn. The First Nations take great care of their land and people, and because of this, the people of Quebec consider it a very safe destination.
Kimberly: Our focus is usually on the international, but we've made a shift in the last few years. This has caused us to rethink what we offer and our products. People still have prejudices and misgivings about indigenous peoples. We need to break down these barriers and build trust so that people come back to us.
2. How does the tourism industry help you promote indigenous culture?
Kimberly: It does so through industry websites, magazines featuring articles on culture and history, tourism exhibitions, etc. Associations have been really helpful in terms of our promotion.
Colombe: Destination Canada and Tourisme Québec have helped our growth. Right now, indigenous tourism is the main product that will help Canada overcome the pandemic. They need us now...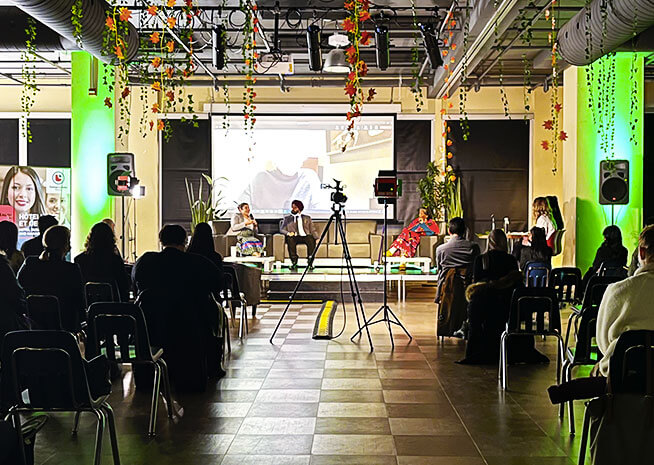 The Future of Indigenous Tourism in Quebec
1. How do you envision the future of indigenous tourism in Quebec?
Colombe: The future is quite promising! Many communities in Quebec and Canada recognize that tourism is a good economic sector: people realize they can make a living by sharing their culture with others. So, it's a success!
A particularly important point: the nations want to share their realities. They don't want to become a tourist attraction like Disney. They have their own identities and are different from one community to another. It's by sharing these realities that we'll be successful. The indigenous peoples of Canada are completely different from those of other countries. In Canada, we have people who lead with values more from the heart.
Kimberly: We share authentic experiences. We want to ensure that our products—like shoes and jewelry—are locally made. For a long time, that wasn't the case: they were made in another country. This is a shame because there is a lot of local talent.
People want to visit us more than they did 5 to 7 years ago. Seeing that recent events have shed light on the residential schools, people are more aware and want to become better acquainted with us. And it's a two-way street, we want to meet visitors from all over the world too.
2. Is there a balance between supply and demand to avoid overtourism?
Colombe: We have more demand than supply. We can't say yes to everything. For the past two years, people have had to book, so we need to expand our offerings.
Kimberly: It's the same with us: everything has to be booked. We're in the development phase, but we want to make sure that tourism stays outside of residential areas so we don't disturb our inhabitants.
People visit our businesses and tourist offices, which is good for the economy. We want our community to feel like people have a voice moving forward. We will no longer place tourist attractions in residential areas. Each time we come up with a plan, we look at the risks and include community partners.
Colombe: The way people travel has changed a lot. The trend is currently toward slow tourism. People want to meet other people. They want to talk to them… get to know them. It's no longer about visiting as many places as possible.
3. As tourism graduates, what is our role? What can we do to help?
Kimberly: Be an activist amongst your colleagues. Always keep indigenous peoples in mind when you travel.
There has been a lot of talk about what happened in the residential schools. People want to know why… But be sure to do your research before visiting. We still have a lot of wounds to heal. It's important to be aware of what people are going through.
Colombe: When you start working in the tourism industry, you have to immerse yourself in the product you're going to promote. If you really want to represent the locals, immerse yourself in their culture. Go live amongst them. Get to know them. It took me two years to get to know my community and all they have to offer. Now, I don't want to leave!
"Always remember that wherever you are, you are on native land. Find out whose land you are on."