This week was held the very first edition of the mmode Gala, an initiative of the Metropolitan Fashion Cluster, to celebrate the next generation of Quebec's fashion industry and reward their achievements.
During the evening, no less than 13 awards of $10,000 were given to the industry players who stood out the most in their category. Among the 13 categories, two of them were addressed to fashion students or recent graduates. LaSalle College was honored to have a student or a graduate nominated in each of these two categories.
Business Start-up Student Award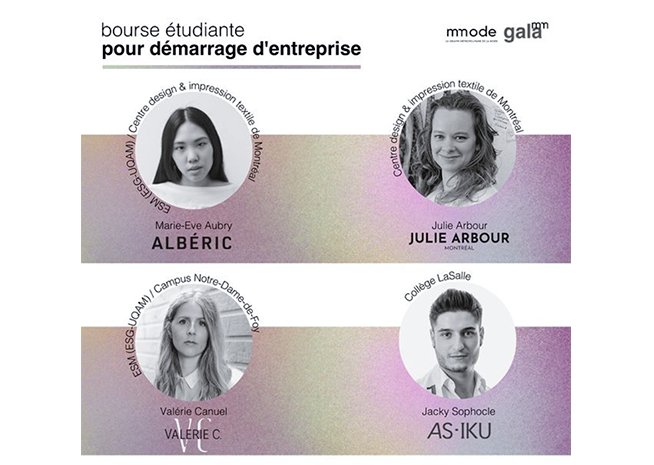 In the "Business Start-up Student Award" category, we want to highlight the nomination of our Fashion Design graduate from the 2020 cohort, Jacky Sophocle.
The launch of his company, As-Iku, whose mission is to change consumer habits by designing comfortable and stylish clothing while prioritizing the respect of the environment, allowed him to be nominated in this category.
Michèle Boulanger-Bussière Student Excellence Award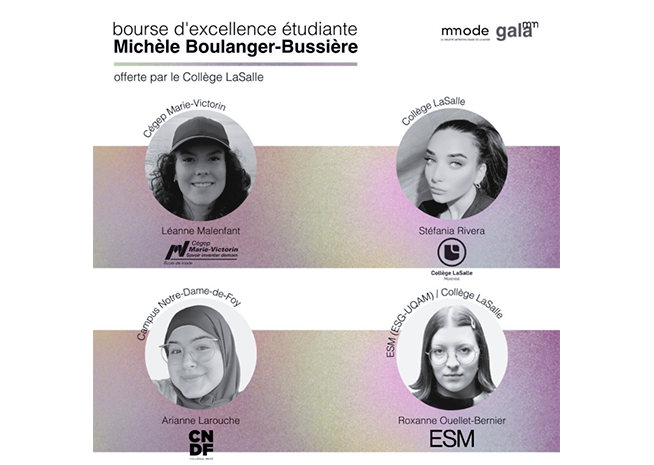 In the "Michèle Boulanger-Bussière Student Excellence Award" category, our Fashion Marketing student, Stefania Rivera, has well deserved her nomination.
But it is our graduate, Roxanne Ouellet-Bernier, currently studying at the École supérieure de mode (ESG UQAM), who was granted 10 000$ to continue her studies and pursue a Master's Degree.
The "Michèle Boulanger-Bussière Student Excellence Award" is offered by LaSalle College in honor of a Quebec fashion pioneer who left us last July. Indeed, Mrs. Boulanger-Bussière has significantly contributed to the development of the Quebec fashion industry. It is to her and to Mr. Jean-Paul-Morin that we owe the very first fashion programs at LaSalle College.
Furthermore, it was the Director of our School of Fashion, Arts and Design, François Bousquet, who had the honor of presenting the Michèle Boulanger-Bussière Award to the winner during the gala.