After shaking up Montréal's Old Port with fabulous designs and hypnotic music during our SIGNATURE fashion show, the College once again lit up Montréal with a totally-new concept for our prestigious fashion show during the Mode + Design Festival.
Novel Fashion Show Concept Brings Out the Crowds
Eclectik, our annual fashion show held during the Mode + Design Festival, took quite a unique turn this year.
Set to the beats of a DJ battle between DJ FRIGID and DJ Plastik Patrik, some 40 models sauntered and danced their way around the College's lighted booth and our multi-colored MixBus. This was nothing like traditional runway fashion shows.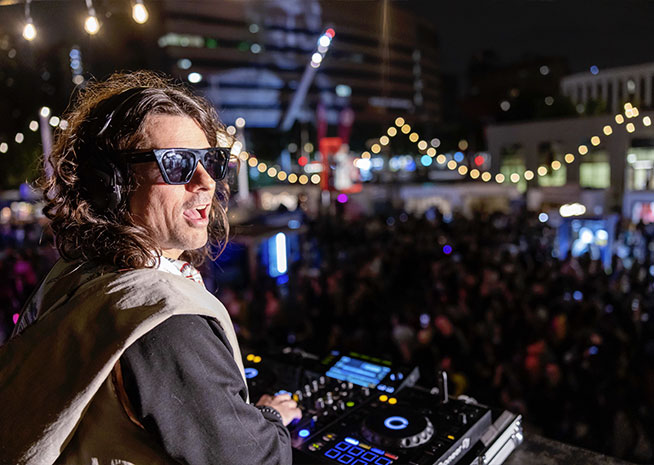 Photo: J-F Galipeau
The models and dancers included some big names in the Québec fashion and dance worlds: Emy Lalune, Marie Gagné, Karl Hardy and Caro Vezina!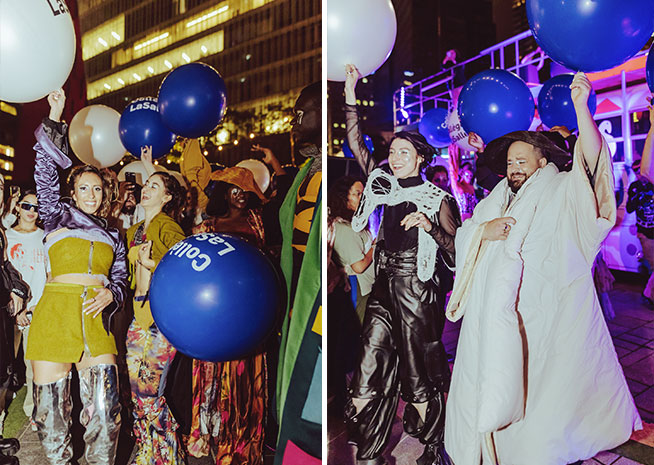 Photo: Matt Smilenot
Patsy Gallant was the cherry on top, thrilling spectators as an energetic co-host before closing the show with her song "Around the World".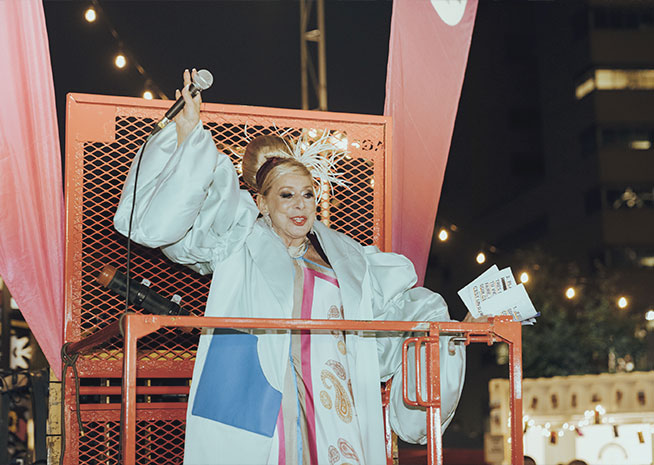 Photo: Philippe Manh Nguyen
Creations Highlight the Talent of our Fashion Design Students
Just like at our SIGNATURE show, the 40 models proudly wore creations made by Fashion Design graduates from the 2019–2022 cohort.
It goes without saying that these magnificent creations did their part to light up the Place des Festivals that night! It's always a triumph for our students to see the outcome of their hard work come to life to be admired by hundreds of people.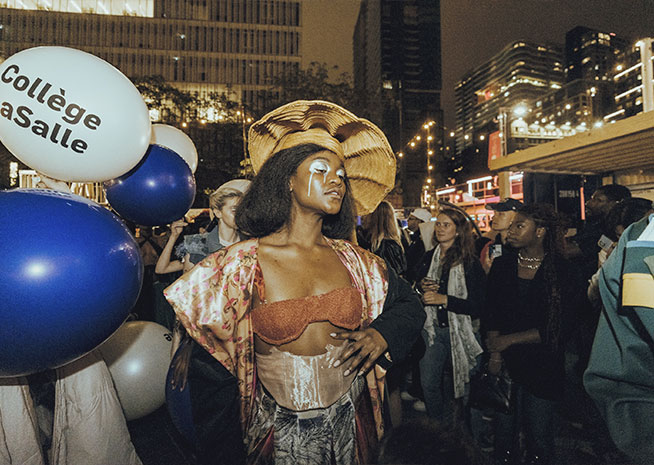 Photo: Philippe Manh Nguyen
College in Prime Location at the Largest Outdoor Event of its Kind in North America
The annual Mode + Design Festival brings more than 550,000 fashion and art lovers to downtown Montréal for this four-day event.
The College is well-known for our fashion programs, so we always have a prime location, attracting hundreds of festival attendees to a booth that mirrored our colorful, vibrant vibe and displayed our students' work.
At the booth, attendees could get their copy of SIGNATURE, the Book, take photos in front of our metallic wall and admire some creations made by our graduates.
Watch a video recap of the event:
Immerse yourself in this unique evening with our 360-degree video:
More photos of the event: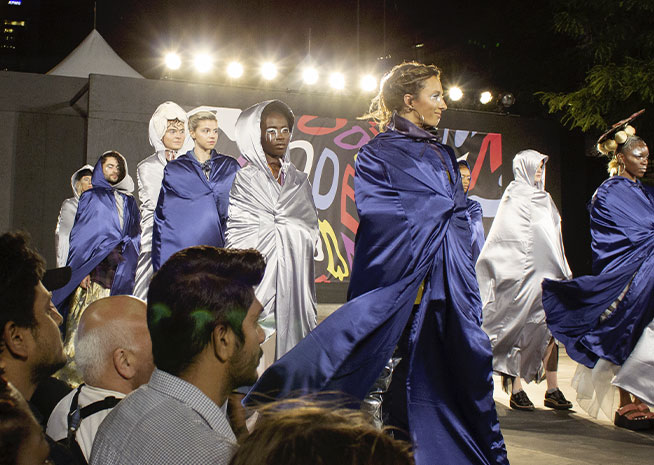 Photo: Thessa Thomas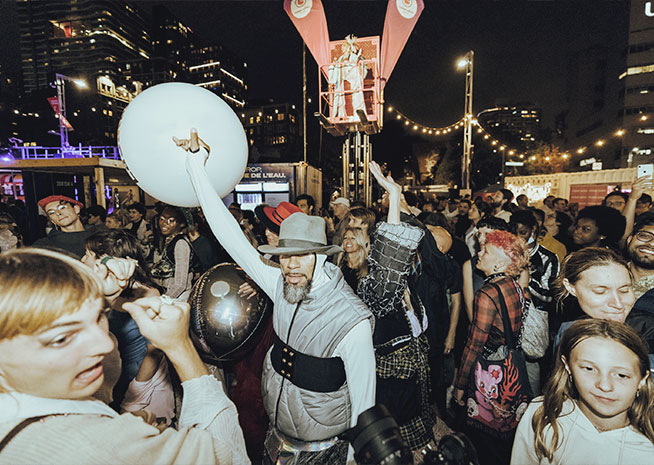 Photo: Philippe Manh Nguyen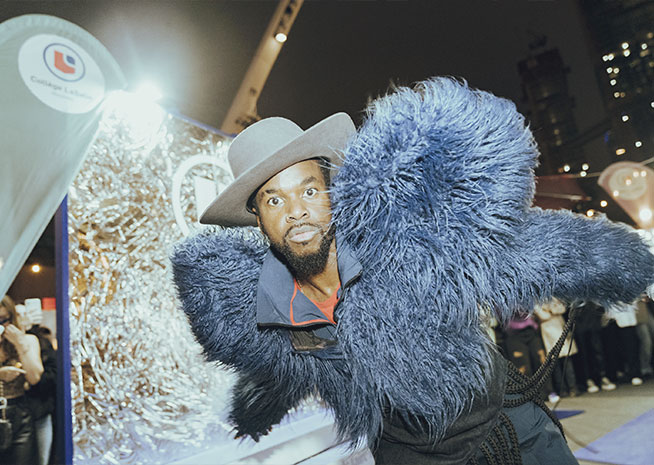 Photo: Philippe Manh Nguyen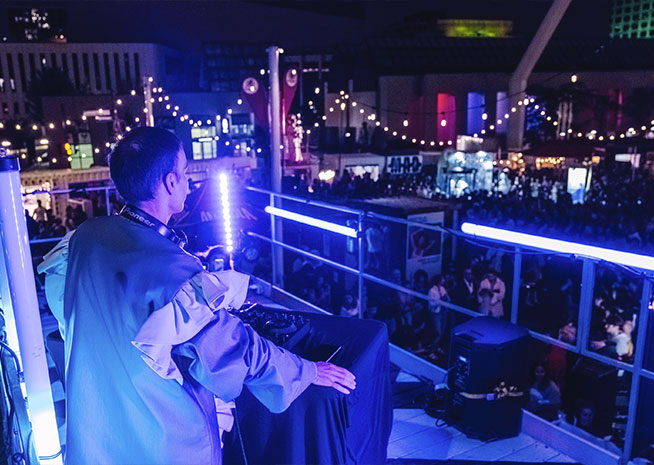 Photo: Victor Fishy
Photo: Ka Chau Wong
Our 2019-2022 Fashion Design students:
Amirreza Fakhimiazar, Asia Fortier, Asmaa Abdelhadi, Bo Wang, Brenda Lozano, Camille Leseize, Cassandre Josépovic, Claudia Larocque, Dana Chow, Della Maria, Elizabeth Driver, Emelina Tuohy, Enya Achim, Gabrielle Simard, Grace Karin, Harjot Kaur, Hector Lamilla, Hend Garfal, Huicong Zhang, Imen Sliti, Intira Intom, Janique Baril, Jasmine Besner, Jean-Christophe Dumont, Jennifer Jimin Hwang, Kadija Sanfo, Kassandra F., Kimberley B. Martel, Kimia Azarnia, Lara Hozer Peralta, Marie Laforest, Marjorie Bernier, Mathis Morelli, Mathis Morris, Melika Amani, Mélinda Pensédent, Mélissa Brathwaite, Nicolas Reversat, Ningning Zhang, Olivia Posesorky, Oliver Morris, Rachel Desa, Ranic Hour, Roshni Patel, Rui Wang, Samah Hammoud, Samiha Chetioui, Samuel Castaing, Sara Brunelle, Shane Mcgovern, Shirin Shaygan, Soumia Merabet, Stéphanie Do Lugar, Tea Murray, Ulysse Poulin, Vera Zee, Will Crosson, Zachary Dépault, Zardesht Hassan