Quite a lot has happened at LaSalle College in recent months...
Springtime announces the beginning of the end of the school program for our graduates. But it's also the start of the end-of-program events organized by the different schools to highlight their successes.
To shine light on their achievements, LaSalle College organizes various events each year for graduates to present their projects and their ideas to a panel of industry professionals, in front of their friends and family.
CEO 2021, the Business Management Graduate Event
On April 17th, the LaSalle College International School of Business and Technologies presented the event CEO 2021, in virtual format. CEO is the result of three wonderful years of hard work, focused on creation, innovation, organization management and entrepreneurship. The primary aim of this event, by and for the students, was to recognize and congratulate the graduates' keen efforts.
Five teams presented their entrepreneurial projects to a jury of four professionals who are well known in the business industry:
Catherine Riendeau, Director of Business Development for Global Payment Inc;
Khanh Pham, Project Manager at the National Bank;
Nima Jalalvandi, Founder and CEO of Expo Entrepreneurs;
Guillaume Bouchard, CEO of Contxtful.
The winning team this year comprised Ngoc Minh Nhu Phan, Minh Anh Tran, Thi Bich Van Tran and Sina Falahnejad Fard for their project which fulfilled the judge's expectations.
Their project, The Light Coffee, is a new coffee merchant in Montréal, which mainly focuses on the sale of authentic, high-quality coffee beans from Vietnam. Customers can enjoy a cup of coffee while discovering the art of roasting in an authentically Vietnamese atmosphere.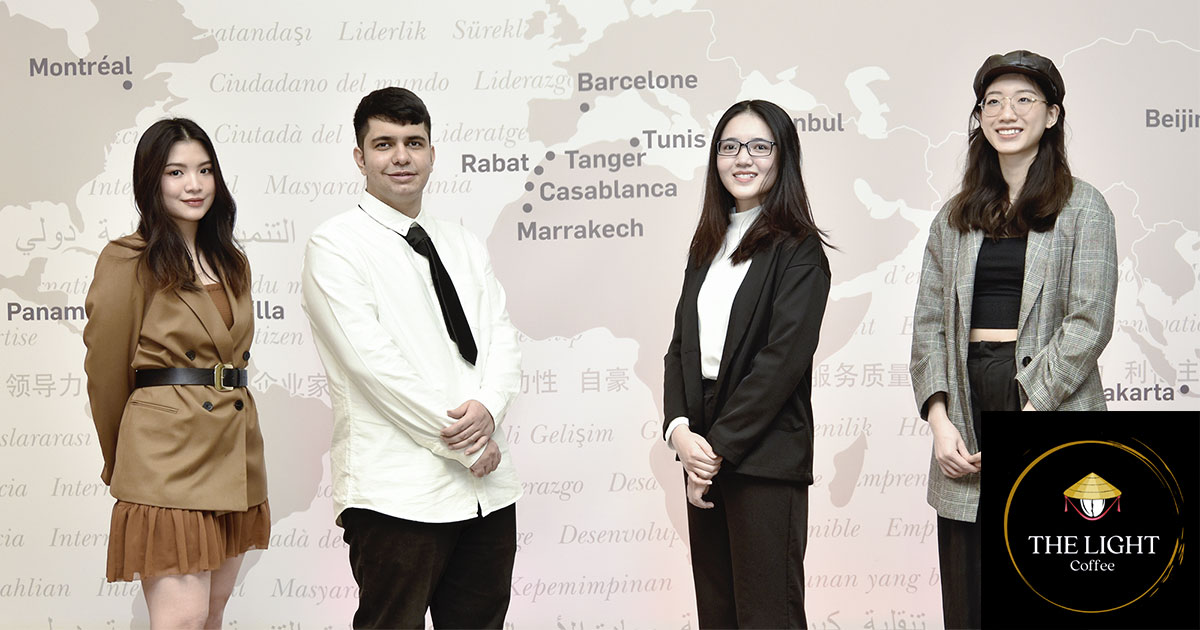 Furthermore, the Public's Choice Award was given to Victoria Sagi, Othman Toufiq, Leticia Assaf, Kevin Nguyen Luu and Arthur Ferrigno for their project CODINE, a 100% compostable and biodegradable packaging design created from fruit and vegetable residues.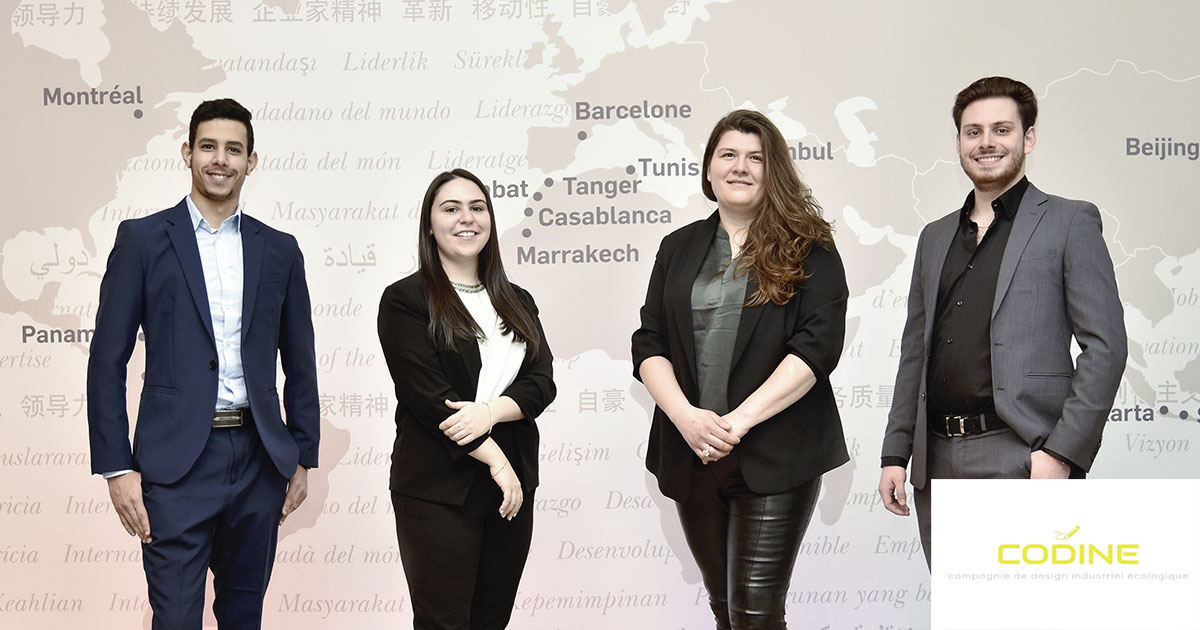 E21, the Fashion Marketing Program Graduate Event
On 11 May, E21 highlighted the final projects of our LaSalle College International School of Fashion, Arts, and Design Fashion Marketing program graduates.
Also in virtual format, the bubbly Debbie Zakaib, Managing Director of Mmode and the Metropolitan Fashion Cluster, presented the evening with panache! However, the difficult task of deciding on the evening's winners was given to the jury members, who were three industry experts:
Jean-Philippe Robert, Chairman of Quartz Co.;
Vicky Scalia, Co-Founder and Co-CEO of L'Intervalle;
Sophie Banford, Director and Editor of KO Média.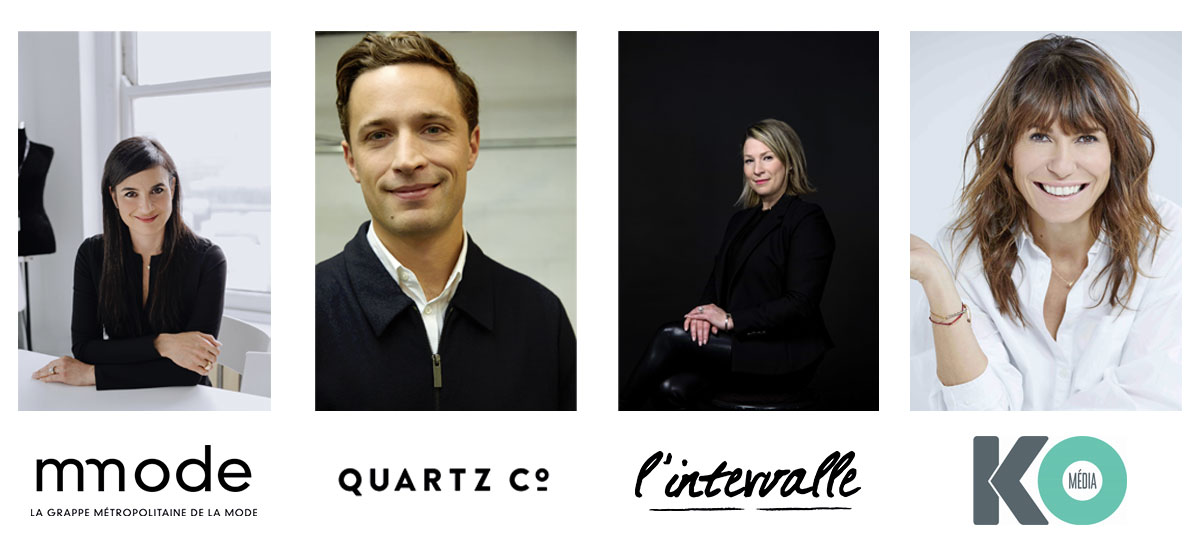 The winners were chosen, among other things, based on the three basic themes of this event.
First of all, for the Technology and Innovation theme, the prize was awarded to Audry Desjardins, Lia Davidson, Charlotte Pavelick, Alexia Roy and Julia Ryan for their project Honeycomb. Honeycomb is a search engine that offers a responsible shopping experience for local and sustainable products.
Then, for the Product and Design theme, Cassius Carter, David Cohen, Rym Guimili, Stephanie Moore and Eddie Santangelo were chosen as the winners for their project i.O.ta, which is a locally designed brand of jewelry. i.O.ta embodies inclusivity and eco-responsibility. The jewels are symbolic and Gothic inspired.
For the last theme, The Individual and Society, the prize was awarded to Anne-Frédérique Faucher, Julia Gaudemer, Jaya Hamel-Limoges and Samuel Sirois for their project ATELIER OUTBR.EAK. Their project is a thrift store offering unique, non-gendered second-hand collections, in collaboration with emerging local artists.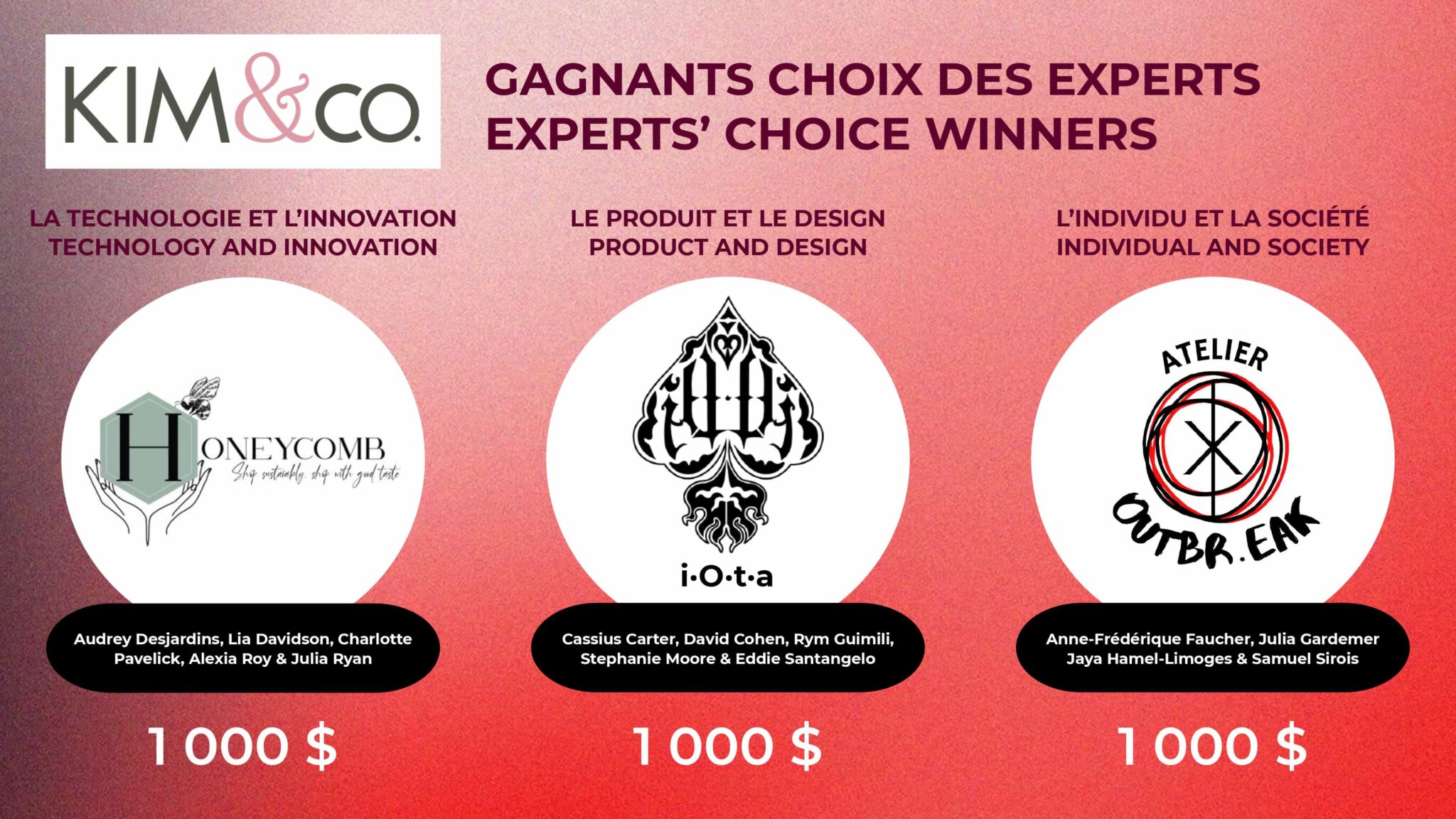 The latter also won the hearts of viewers who chose the ATELIER OUTBR.EAK project for the Best Business Concept. Live at the event, the audience was asked to vote for the project that had impressed them the most!
Furthermore, during the evening, several prizes were awarded to students recognized for their exceptional academic record. First of all, the Academic Excellence Award was given to Rym Guimili. Then, Maude Angers-Lessard won the Graduate Scholarship. Finally, Marilou Banville and Mahé Hatchuel both received the Faculty Excellence Award. Everyone worked very hard and showed great enthusiasm and ambitious and innovative ideas.
Finally, during the same evening, a College graduate with a professional career worthy of recognition was singled out. This year, the Alumni Excellence Award was given to Kendra Horne, Director of Strategy and Transformation at JCPenney.
The International Final of The International Student Entrepreneurship Contest
On 29 May the International Final of the International Student Entrepreneurship Contest took place. During this virtual event, the finalists from each participating campus, Karim Daghari from Tunisia, Loubna Marsou from Morocco and Maude Angers-Lessard from Canada, presented their company to five successful entrepreneurs who were also judges for the evening:
Founder and Artistic Director of the brand Exober, M. Lahoucine Ait El Mahdi has also been a fashion professor at LaSalle College Casablanca since 2002.
With a master's in finance, Mrs Dhouha Ferchichi teaches entrepreneurship and business creation in several higher educational establishments, including LaSalle College Tunis.
Bruno Tontodonati has more than 15 years' experience in the field of strategic planning, in the implementation of innovative solutions and project management. He works at CEIM, the Montréal Centre d'Entreprises et d'Innovation business incubator.
An immunologist and microbiologist by training, Mrs Soula Chronopoulos has her own start-up, Taimma Communications. Ranked among the top 100 female entrepreneurs by Profit Magazine in 2012, she currently works as president of Ellicom and vice-president of innovation at LCI LX (member of the LCI Education network).
Passionate about fashion, Luc Laroche was a Designer then Director of design for the men's underwear line Lùk by Luc Laroche. Then, he became Creative Director for Château Lingerie and Vice-President of retail operations at Tommy Hilfiger. In 2011, he became the joint owner of two restaurants. He is currently Vice-President of operations support at LCI Education.
Because of the quality of his project, Karim Daghari won the accolade. We should however emphasize Loubna Marsou and Maude Angers-Lessard's extraordinary work for their innovative project and excellent achievement. The relevance and creativity of the projects definitely impressed the judges. These young entrepreneurs give hope to the future generation of entrepreneurs worldwide.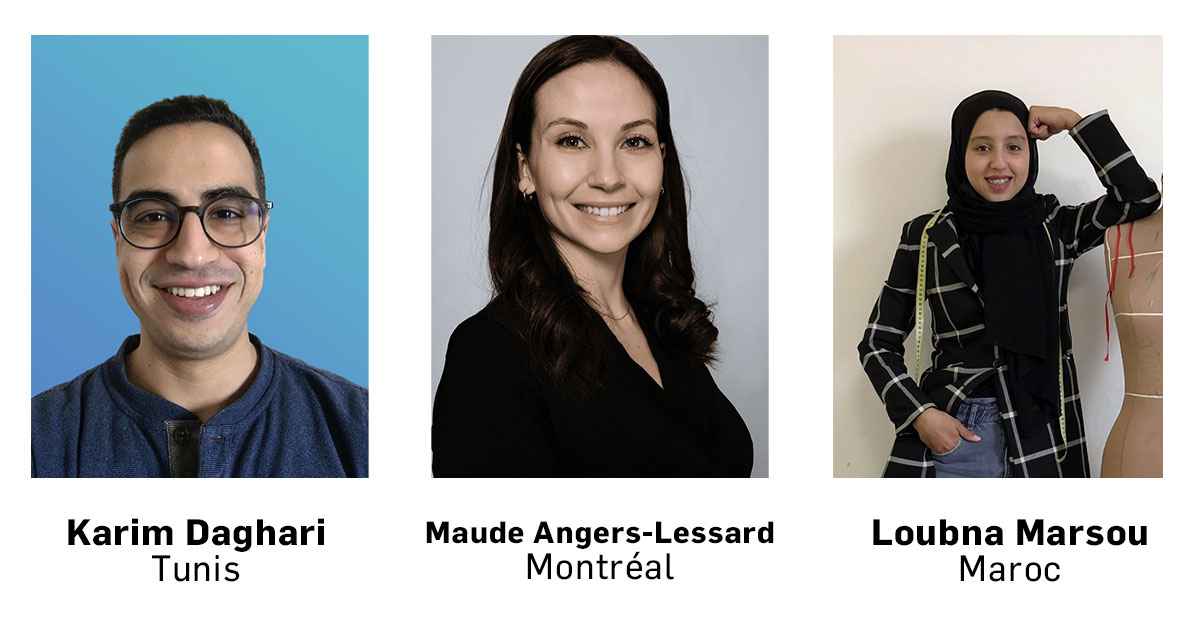 Many thanks to the organizers, jury members, teachers as well as the students involved in these events. Congratulations to everyone for their limitless determination, outstanding creativity and phenomenal ideas!