The grand ENTREPRISE 2019 competition marked the culmination of three years of education for LaSalle College's Fashion Marketing graduates.
On April 24 at the Centre Pierre-Péladeau, five teams of finalists battled it out for the title of Best Business Concept.
They had to convince a panel composed of preeminent members of the fashion industry that their fashion business concept was the best by highlighting their entrepreneurial mindset.
The most creative business projects integrated all the knowledge acquired during their three years of studies, such as marketing strategy, digital business, website and brand image creation, supply strategies and budget planning, among others.
ENTREPRISE is the reward for their hard work.
Tandem, the winning team, unveiled a headband designed to protect cheerleaders from head injuries. In addition to winning the title of Best Business Concept, which came with a $2000 cheque awarded by the AGEL (LaSalle College Student Association), the team won the people's choice award and a $1000 scholarship from Ardène. Their goal now is to launch the product on the market.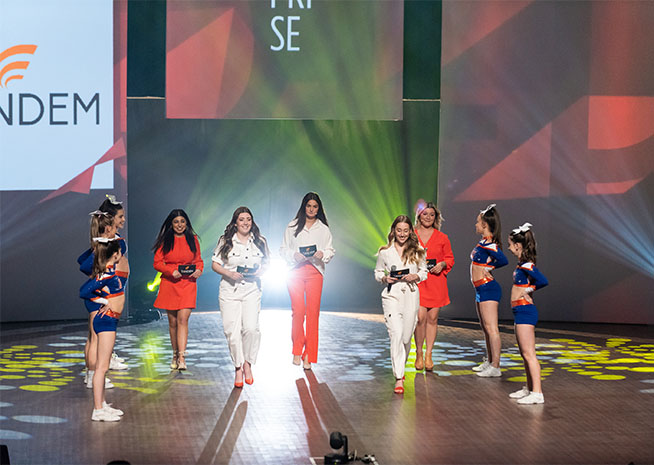 New this year, the Sustainable Development Award was picked up by the Rudimentaire team. They presented 100% natural men's clothing whose production and consumption have a minimal impact on the environment and fit into a circular economy model.
The panel included the following members:
Jackie Tardif (Reitmans)
Vito Cassotta (Michael Kors)
Tanya Iermeri (ALDO Shoes)
Gildas Awuye (Atelier New Regime)
Mariya Mrkonjic Marino (LAMOUR Group)
Franco Rocchi (LE CHÂTEAU)